It's asparagus season and once again there are green bundles piled high on Gourdon's market. This always feels like an encouraging sign - it's when we know that spring is here for sure!
But before tucking in our napkins, we decided to discover more about the history and cultivation of this fine vegetable...
Wild asparagus originates from the temperate regions of Eurasia (Central and Southern Europe, North Africa, Central and Western Asia).
But it is only around the 15th century that we find traces of asparagus cultivation in France. In the 16th century, asparagus was so appreciated at the court of France, that it was considered as the queen of vegetables and was called le légume royal, (royal vegetable), le printemps en tiges (spring in stems) or l'ivoire à manger (edible ivory).

Until the 19th century, asparagus remained a luxury product, accessible only to the wealthy. It only began to become "democratized" with the improvement of farming techniques and the appearance of new varieties. The cultivation of asparagus sprouted first in the Paris region, then in the Loire Valley. Asparagus then conquered Aquitaine, Provence and the South of France.
Today, a whopping 20 000 tonnes of les asperges (f) are grown every year throughout France, by more than 3 000 producers on about 4 500 hectares of land.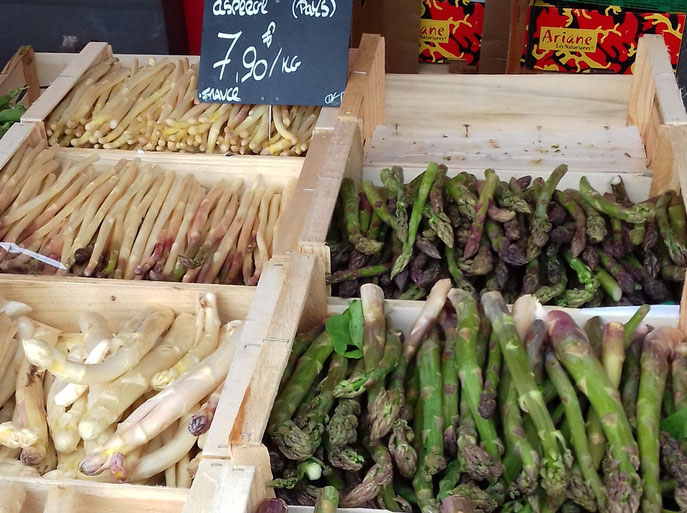 Green, white or purple?
Asparagus changes colour depending on its exposure to sunlight. Each asparagus colour is distinguished by a different taste and characteristics: green asparagus for example does not need to be peeled, unlike the white and purple. It's simply a question of taste... and colour!
White asparagus has been grown exclusively in the soil. The mound is covered with an opaque tarpaulin to limit the impact of light. The asparagus is harvested even before it comes out of the ground, using an elongated instrument to cut the asparagus underground.
Purple asparagus is produced under the same conditions as white asparagus except for some slight exposure to the sunlight. It is harvested when the tip protrudes out of the ground, thus colouring all or part of the asparagus, first in pink then in purple.
Green asparagus grows entirely above ground and is exposed to sunlight for several days. The concentration of its pigments increases, at the same time as the chlorophyll synthesis begins. Green asparagus is simply harvested with a knife.
So now we have the history and the facts, let's get cooking with le légume royal! Here's a recipe video that will work your ears and your taste buds! If you find it a little too fast, try slowing it down by clicking the video's settings icon in the bottom right-hand corner: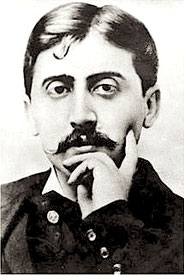 France's most celebrated asparagus eater (and other interesting facts...)!
The effect of asparagus on urine odour has been observed for centuries. French novelist Marcel Proust famously wrote in 1913 that asparagus
"transforms my chamber-pot into a vase of perfume." *
Proust was therefore one of the 40% of people able to smell the volatile sulfur derivatives eliminated by the kidneys in the urine, especially thiomethane CH3-SH, after eating asparagus.
Grimod de La Reynière acquired fame during the reign of Napoleon for his sensual and public gastronomic lifestyle. He said that asparagus should only be eaten by the rich because it isn't substantial and is an aphrodisiac.
The burning question, of course, is how do we actually eat asparagus? We are assured by our smart Parisian friends that asparagus is the only vegetable you are allowed to eat with your fingers! Even when they're covered in a melted buttery sauce, you should simply roll up you sleeves and get stuck in - just be prepared for lengthy clean-up operation afterwards! But beware: in the "Manuel de civilité pour les petites filles", published in the 1930s, we are advised not to eat asparagus while giving languishing looks at the young man we are trying to seduce...

So now you know all you will ever need to about the marvellous asparagus, it just remains for us to wish you a bon appétit and that your chamber pots smell of perfume very soon...
---
*
« Mon ravissement était devant les asperges, trempées d'outremer et de rose et dont l'épi, finement pignoché de mauve et d'azur, se dégrade insensiblement jusqu'au pied,-encore souillé pourtant du sol de leur plant,-par des irisations qui ne sont pas de la terre. Il me semblait que ces nuances célestes trahissaient les délicieuses créatures qui s'étaient amusées à se métamorphoser en légumes et qui, à travers le déguisement de leur chair comestible et ferme, laissaient apercevoir en ces couleurs naissantes d'aurore, en ces ébauches d'arc-en-ciel, en cette extinction de soirs bleus, cette essence précieuse que je reconnaissais encore quand, toute la nuit qui suivait un dîner où j'en avais mangé, elles jouaient, dans leurs farces poétiques et grossières comme une féerie de Shakespeare, à changer mon pot de chambre en un vase de parfum. »
Marcel Proust - "A la recherche du temps perdu"

---
Sources: L'association Asperges de France, General Census of Agriculture 2010 and Franceagrimer, the F & L channels, 2014 data, January 2016 edition).