The South-West of France is one of the country's most productive strawberry growing areas. As early as March the first strawberries can be seen on the markets and can continue to be found right up until the first frosts. So we have many months ahead in which to enjoy this fabulous fruit!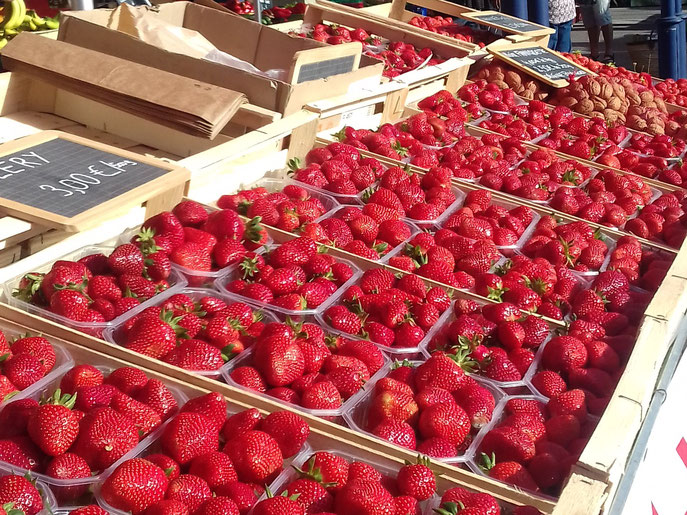 Over 45 000 tonnes of strawberries are harvested in France each year. The main varieties that can be found locally to us are Gariguette and Cléry (March-June), Charlotte (April-Nov)  and Mara des Bois (May-Oct)
All 4 varieties are sweet and juicy, needing no sugar or other embellishment. To enjoy them at their best they should be kept in the fridge for no longer than a couple of days, then left at room temperature twenty minutes before eating. A quick rinse in cold water is enough to prepare them for eating, while preserving their flavour.
Eat yourself slimmer and healthier!
A strawberry only contains 6 to 9% sugar and because of this is known as a fruit-minceur, or diet-fruit.  A portion of six strawberries is enough to cover the recommended daily intake of vitamin C. The strawberry is also full of vitamins B8, B9 and A.
The antioxidant power of strawberries is beneficial for our neurons: strawberries contain fisetin, a natural antioxidant that helps to protect our neurons from neurodegenerative diseases. In addition to this, strawberry is a natural cure for constipation and promotes the fortification of bones and teeth. So the good news is you can eat as many as you like!

Here is a short video explaining the cultivation of strawberries in the South-West:
Les fraises en abondance? Ça se fête!
You would be forgiven for thinking there was a fête for just about everything here in France. Locally, we have fêtes for flowers, bread, melons, and even donkeys! So no surprise that the strawberry also has its special celebration. In the village of Nabirat, just 10 km from Gourdon, the annual fête de la fraise is quite something to behold. Every year, alongside cabaret and other entertainments, is a strawberry tart like no other. Covering 30 square metres and covered with 160 litres of cream, 350 kilos of strawberries, and 32 kilos of topping, the strawberry is the belle of the ball. In all, 3,000 pieces of the tart are cut and sold at two euros a piece. Form an orderly queue, mesdames et messieurs!